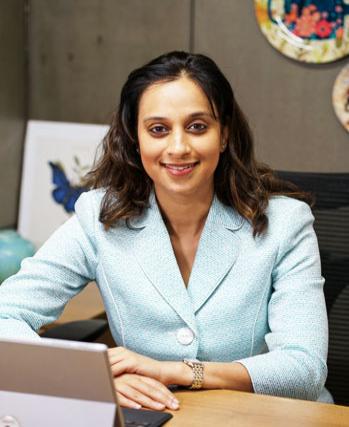 Namita is a Partner in the Technology Media and Telecom (TMT) practice group at INDUSLAW. Namita has been recognised as a 'Top Female Lawyer' and 'Top TMT Lawyer' in India by Asian Legal Business 2022 and 2023. Also, ALB Women in Law Awards 2021 shortlisted Namita for Thought Leader of the Year, India and the Middle East. She has also been ranked by Chambers & Partners Asia Pacific, Legal 500 Asia Pacific and Asialaw as one of India's highly recommended TMT, Fin-tech and Data Protection lawyers.

Namita is well-regarded for her technology law expertise across all industry sectors. Namita has advised several domestic and international clients from start-ups to mature private and public companies and investors in various technology-driven and technology-consuming industries on issues ranging from setting up an e-commerce business and outsourcing to data governance and cyber security.

She focuses her practice on software, cloud-based services, artificial intelligence and machine learning, information technology, intellectual property, strategic acquisitions of business units/technology platforms and IP licensing, electronic and mobile commerce, health-tech, intermediary labilities, entertainment and digital business, and all forms of related legal and regulatory compliance and policy and advocacy initiatives. While Namita's work primarily revolves around all facets of fintech related advice, she frequently advises and assists emerging and established companies on structuring their operations to house fin-tech activities, on new product offering and regulatory advisory services in the fin-tech space.

Namita is at the forefront of data privacy issues in India and is one of the few Indian lawyers to assist clients with queries on EU-GDPR and the CCPA. She regularly speaks on data privacy, fintech and emerging technology law issues and has authored many academic articles on the subject.

Prior to INDUSLAW, Namita has had the benefit of being associated with the IT and telecom industries right from the very beginning of her career which includes a stint as a senior in-house counsel in Lenovo, Oracle and Bharti Airtel Limited.

In her spare time, Namita enjoys reading, travelling and practicing Pilates.

publications